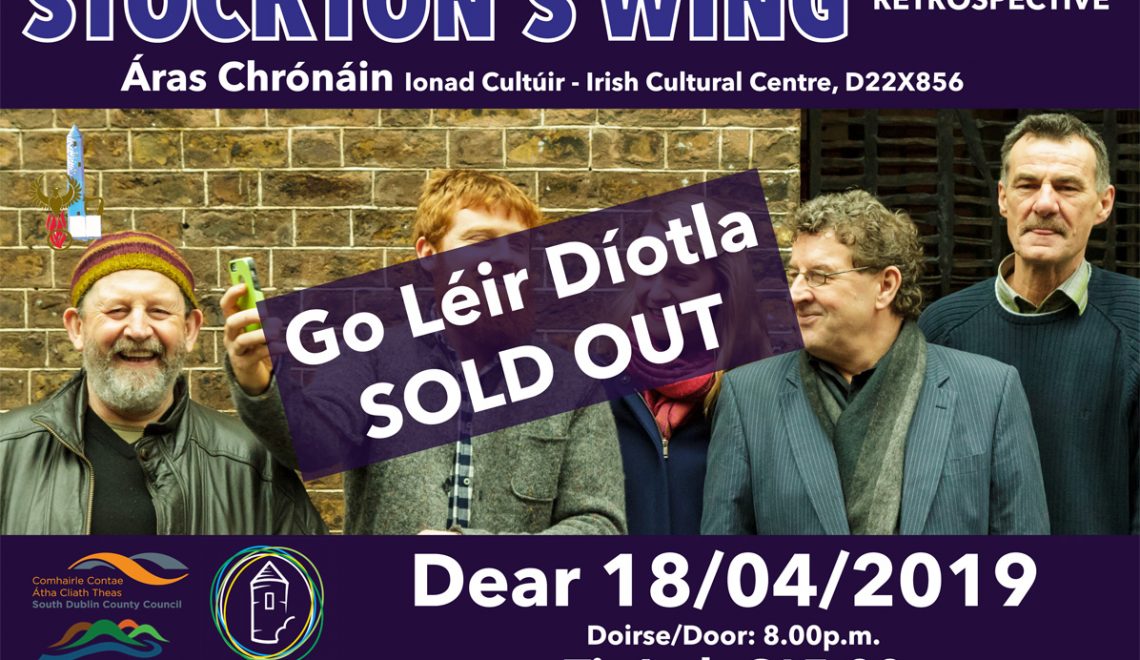 Stockton's Wing
Áras Chrónáin
Déardaoin/Thursday
18/04/2019
Doirse: 8.00p.m.
Stáitse: 8.30p.m.
GO LÉIR DÍOLTA  –  SOLD OUT
TICEID: €15.00 01- 4574847 or GIG@ARASCHRONAIN.IE
GO LÉIR DÍOLTA  –  SOLD OUT
STOCKTON'S WING 2019 RETROSPECTIVE
Stockton's Wing embark on a series of shows in 2019
presenting a retrospective of their vast music catalogue
spanning 4 decades from the early recordings of Take a Chance to the innovative and critically acclaimed Light in the Western Sky, the excitement of a big band sound on Full flight and Stockton's Wing Live and the truly engaging and stunning return to basics on The Crooked Rose.
Retrospective takes you on a journey through the catalogue
of great music and songs with special guests on keyboards and drums respectfully.
It will also feature founding members Paul Roche,
Tommy Hayes and Mike Hanrahan along with the two young stalwarts Karol Lynch and Tara Breen.
It promises to be a night of great music and Wing action.
Stockton's Wing are appearing
at Áras Chrónáin on Thursday 18th April.
TICEID: €15.00 01- 4574847 or GIG@ARASCHRONAIN.IE