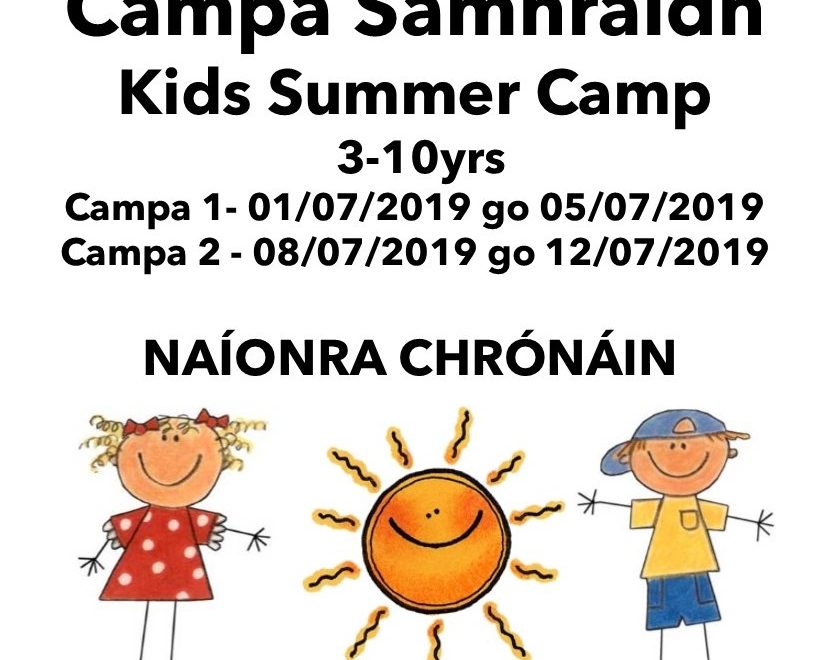 Campa 1- 01/07/2019 go 05/07/2019
Aois Ghrúpa / Age Group: 3-10 years old
Am / Time: 9.30a.m. – 1.00p.m.
Naíonra Chrónáin, Áras Chrónáin Ionad Cultúir
Cluain Dolcáin, B.Á.C. 22 / D.22 X856
Táille/Fee don seachtain (pw): €75
€70- páistí atá I Naíonra Chrónáin / children in Naíonra Chrónáin €65 2 pháistí ón gclann chéanna / 2 children from same family
Le tabhairt / What to bring:
Packed lunch & Snack and large drink
Suitable playing clothes for art and sport
Spásanna Teoranta – Áirithigh go luath
Limited Spaces – Book Early
naionra@araschronain.ie or 01-4578489 / 087-6484181
Campa Samhraidh – Cad É? / Summer Camp – What Happens?
Le linn an champa glacann na páistí páirt i réimse leathan d'imeachtaí trí mheán na Gaeilge. Ní gá do pháistí Gaeilge líofa nó tallann ar leith a bheith acu roimh ré
Tugann an Campa Samhraidh deis do pháistí ealaín, dráma, spóirt, ceol, srl a fhiosrú i suíomh taitneamhach, spraíúil trí mheán na Gaeilge. Le linn an Campa Samhraidh trí imeachtaí laistigh agus amuigh faoin aer (éadaí breise ag teastáil) faigheann páistí seans an Ghaeilge a fheabhsú agus a úsáid i suíomh nádúrtha agus taitneamhach.
During the camp, children can do a wide variety of activities in a fun way through the medium of Irish. No special talent or level of spoken Irish is required.
The Summer Camp provides an opportunity for children to have a
happy and enjoyable experience exploring art , drama, sports, music, etc. through the medium of Irish. The Summer Camp incorporates
indoor and outdoor activities (spare clothes required) allowing the children to take advantage of using and improving their spoken Irish in a fun and natural environment.
Samplaí d'imeachtaí / Sample Activities
Ealaín, Cluichí, Liathróid Lámha, Peil, Ceol, Cré, Péinteáil srl
Art, Games, Football, Music, Clay, Painting, Etc
Tá spásanna teoranta, tabharfar tús áiteanna de réir
mar a thagann na foirmeacha ar ais.
Spaces are limited and will be allocated
to first returned application forms
NOTE: Commencement of Campa subject to numbers
Pick-up & Drop-off points may vary depending on days activities