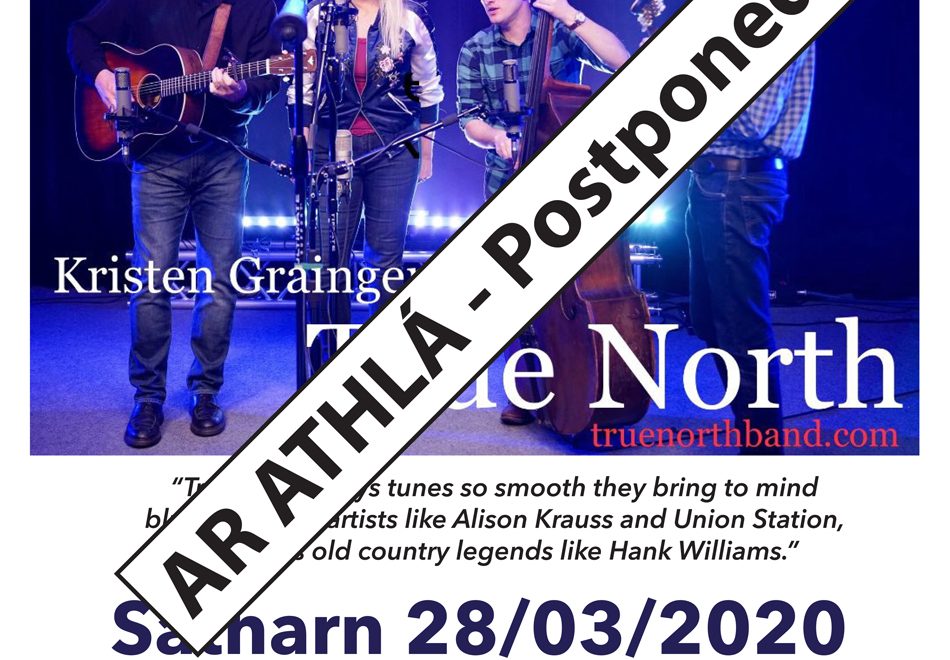 AR ATHLÁ – POSTPONED
GIG le
True North
Satharn 28.03.2020
ag
8.00p.m.
AR ATHLÁ – POSTPONED
Cead Isteach: AR ATHLÁ – POSTPONED
Ticéid: Brian 01-4574847 agus gig@araschronain.ie
"True North plays tunes so smooth they bring to mind bluegrass-pop artists like Alison Krauss and Union Station, as well as old country legends like Hank Williams."
— Kim Ruehl, No Depression/West Coast Performer
Folk-bluegrass quartet KRISTEN GRAINGER & TRUE NORTH is a powerhouse of original songs, lush vocals and crazy-good instrumentalists putting their own fresh twist on the American music tradition.
Fronted by award-winning singer-songwriter Kristen Grainger, True North is comprised of co-founder, multi-instrumentalist and singer-songwriter Dan Wetzel and Pacific Northwest bluegrass superstars Martin Stevens and Josh Adkins, formerly of the Bluegrass Regulators.
Grainger is making a name for herself as a crafter of great songs, collecting accolades and awards at national songwriting contests at Wildflower Arts & Music Festival (TX), IMEA (GA), Telluride Bluegrass Festival (CO), Merlefest (NC), Kerrville (TX), and Wintergrass (WA). She just won the NW Roots Music songwriting competition (OR) in February 2019.
The band's newest project, Open Road, Broken Heart, debuted at #1 in 2018 on the folk DJ charts for national radio airplay and stayed in the Roots Music Report's Top 25 all year. Their 2014 release, Elsebound, spent 25 weeks in the Top 10 and was the 7th most-aired folk album of 2015.
On stage, the quartet's four vocalists (Grainger on lead), plus guitar, mandolin, octave mandolin, ukulele, fiddle, and acoustic bass, guarantee a big fat show with plenty of positive energy.
Website: www.truenorthband.com