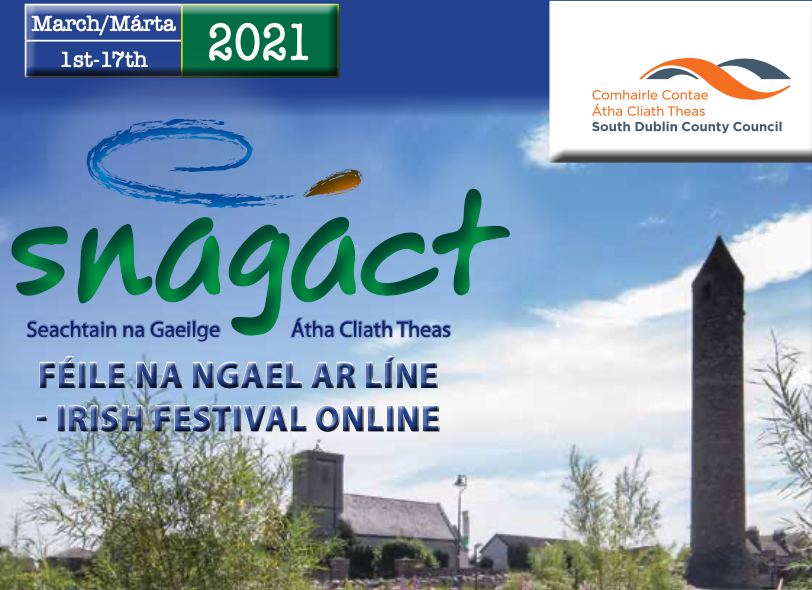 Launch of Seachtain na Gaeilge Atha Cliath Theas Online 2021
South Dublin County Council and South Dublin Libraries in partnership with Áras Chrónáin are delighted to bring you this year's Online Seachtain na Gaeilge Átha Cliath Theas (SnaGÁCT). South Dublin County Council is proud to support Seachtain na Gaeilge as well as the Gaeilge Le Chéile initiative which encourages people to use spoken Irish in their everyday lives. This involves just three simple steps: Gaeilge a úsáid, Gach Lá, Gach Áit, le Gach Duine – Use Irish Everyday, everywhere with everybody.
It is hoped that spoken Irish will be heard more often in our communities, we can start by using simple phrases on a daily basis such as "Go raibh maith agat" or "Slán".
SnaGÁCT online festival was launched officially on 15 February by Mayor of South Dublin County Council, Cllr Ed O' Brien. The programme will run from 1– 17 March. This year's packed online calendar has events for everyone including a special Online concert by Kila, in conjunction with Áras Chrónáin and St. Patrick's Day Virtual Festival, Ciorcal Comhrá, Conversation Groups, Irish Language Classes , workshops, traditional music sessions, and many other entertaining events, All  are Online / Ar Líne  and All are Free / SAOR.
In referring to this year's programme of events Mayor O' Brien said "I would encourage everyone to get involved in Seachtain na Gaeilge this March and use this time to attend as many online events as they can. Don't forget to use your cúpla focail during online calls to support the use of Irish in our daily lives!"
For further information and to download the brochure visit SnaG2021 Brochure