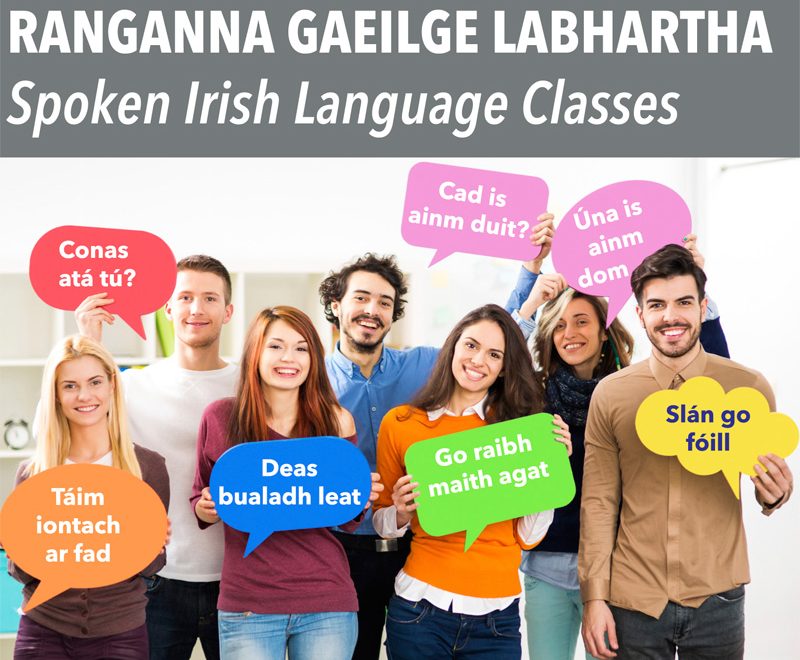 Ranganna Gaeilge Labhartha do Dhaoine Fásta / Spoken Irish Language Classes for Adults 2022
Leibhéal / Level:
Complete Beginners (No Previous Experience of Irish language)
Cúpla Focal (Leaving Cert Irish)
Feabhsaitheoirí (Improvers)
Tosú / Start: Eanáir 2022 / January 2022 (commence week of  24/01/2022)
Lá / Day: Oíche Chéadaoin / Wednesday Evenings
Am / Time: 7.00-8.30p.m. (Hybrid – On Site & on line / ar líne – via ZOOM)
EOLAS & Clárú / Information and Enrolment CLICK HERE
Cén Fáth Ranganna Gaeilge Labhartha in Áras Chrónáin:
Atmaisféar taitneamhach le muinín  a thabhairt duit feabhas a Chur ar do chuid Gaeilge.
An enjoyable relaxed atmosphere to give you confidence and help you improve your spoke Irish .
Teagasc, Nótaí Ranga, Obair Ghrúpa, Ciorcal Comhrá agus cabhair le Obair Bhaile do pháistí bunscoile.
Tuition, Class Notes, Group Work, Conversation Group and help with primary school children's homework .
Os coin 30 bhriain de thaithí.
Over 30 years of experience .