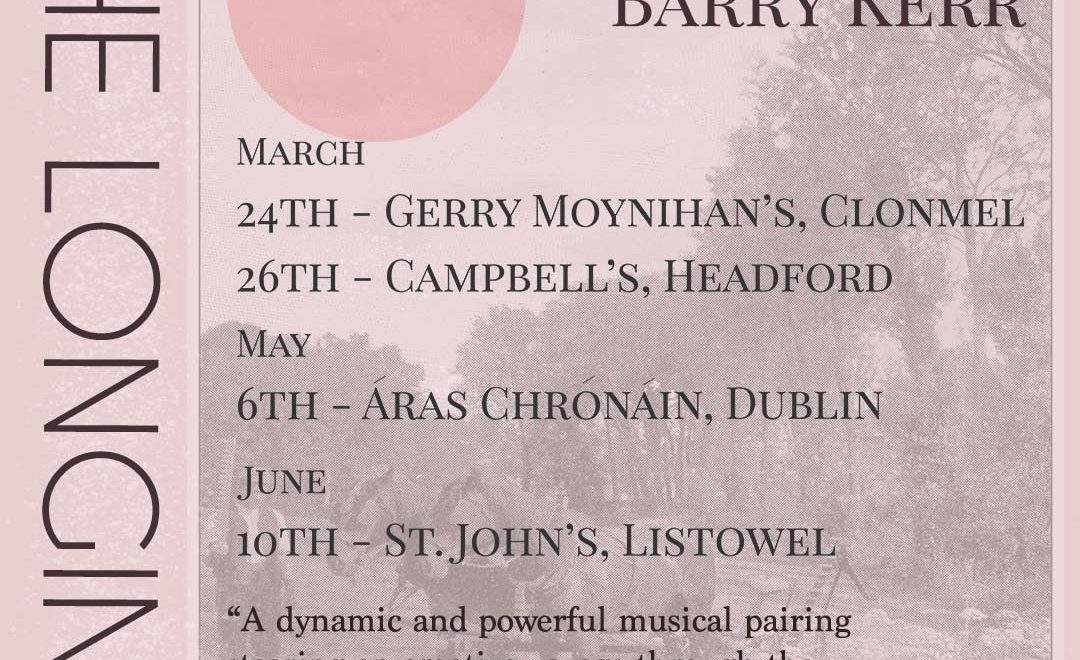 'The Longing'
le Pauline Scanlon agus Barry Kerr
Satharn 06/05/2023
Tosú: 8.00p.m.
"The Longing" is a collaborative traditional singing project between renowned artists Pauline Scanlon and Barry Kerr. 
Both established performers in their own right but also long-time collaborators on their respective endeavours, this alliance is an inevitable outworking of years of concerts, sessions and late night sing-songs, where a mutual repertoire and telepathic understanding of expression has cultivated a powerful force in song.
Focusing on traditional songs where feelings of longing for home, freedom, love, acceptance and peace are central themes, they have created beautiful, contemporary arrangements whilst celebrating and amplifying the essence and deep truths within our tradition.
Is tionscnamh amhránaíochta comhoibríoch idir na healaíontóirí iomráiteacha Pauline Scanlon agus Barry Kerr é 'The Longing'.
Tá aithne mhaith ar an mbeirt acu mar amhránaithe agus is iomaí uair a chas siad i dteannta a chéile i gcaitheamh na mblianta. Tá blianta fada caite acu ag ceolchoirmeacha agus ag seisiúin amhránaíochta le chéile, a mhair go minic go béal maidine. Is as sin a d'eascair an stór amhrán atá forbraithe acu in éineacht, agus tá an comhoibriú seo bunaithe ar chomhthuiscint cumhachtach atá acu beirt ar na hamhráin.
Díríonn siad ar amhráin thraidisiúnta a bhfuil síreacht, saoirse agus síochán ina bunchloch acu, agus tá cóirithe áille comhaimseartha déanta acu ar na hamhráin seo a fhanann dílis do chroí agus d'fhírinne an n-amhrán.