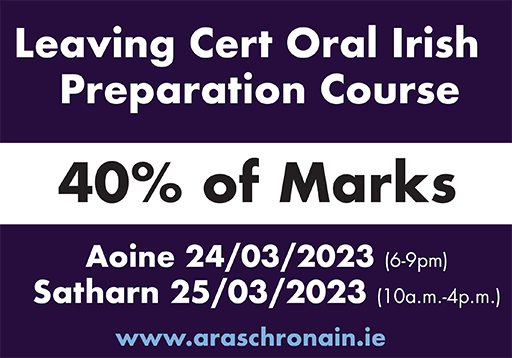 Gaeilge na hArdteiste 2023 – Ullmhúchán don Scrúdú Béil Gaeilge 
Leaving Cert Irish 2023 – Preparation for the Oral Exams
2 Lá Dianchúrsa –  2 Day Intensive Course 
Aoine 24ú Márta 24/03/2023 –  6.00-9.00p.m.
Satharn 25ú Márta 25/03/2023 – 10.00a.m.-4.00p.m.
Leibhéil/Levels
Ardleibhéal – Higher Level
Gnáthleibhéal – Ordinary Level
Táillí/Fees: € 50 – CLICK HERE TO ENROL – CLIC ANSEO LE CLÁRÚ
 [Discounts available for children of members of Muintir Chrónáin]
NOTE: Registration is on a first come first served basis
All Classes Subject to Uptake & Viability – Limited Numbers in each class (max 14)
Cén Fáth an Cúrsa seo? / Why take this course?
Is cúrsa é seo dóibh siúd a bheidh ag tabhairt faoi bhéaltriail Gaeilge na hArdteiste 2023. Is cúrsa praiticiúil é atá dírithe ar na codanna éagsúla sa Bhéaltriail mar a leanas:
Na sleachta próis a léamh gan deacracht
Freagraí maithe Gaeilge a thabhairt ar cheisteanna a thagann suas go rialta sa bhéaltriail.
Foclóir agus an ghramadach a fheabhsú,
Misneach a thabhairt do dhaltaí agus iad a chur ar a gcompord leis an Ghaeilge in atmaisféar deas cairdiúil.
Cur chuige dearfach faoin scrúdú a thabhairt do dhaltaí.
Cuirfear bréagscrúdú bhéaltriall ar na daltaí ag deireadh an chúrsa.
This course is for those taking the Oral Irish Leaving Cert exam in 2023. It is a practical course directed at the various elements of the Oral Exam as               follows:
To read the prose passages with ease.
To reply in good Gaeilge to questions which arise regularly in the Oral Exam.
To improve both vocabulary and grammar.
To encourage pupils and to put them ar ease with Gaeilge in a friendly comfortable atmosphere.
To give pupils a positive approach to the exam.
Pupils will be given a mock oral exam at the end of the day