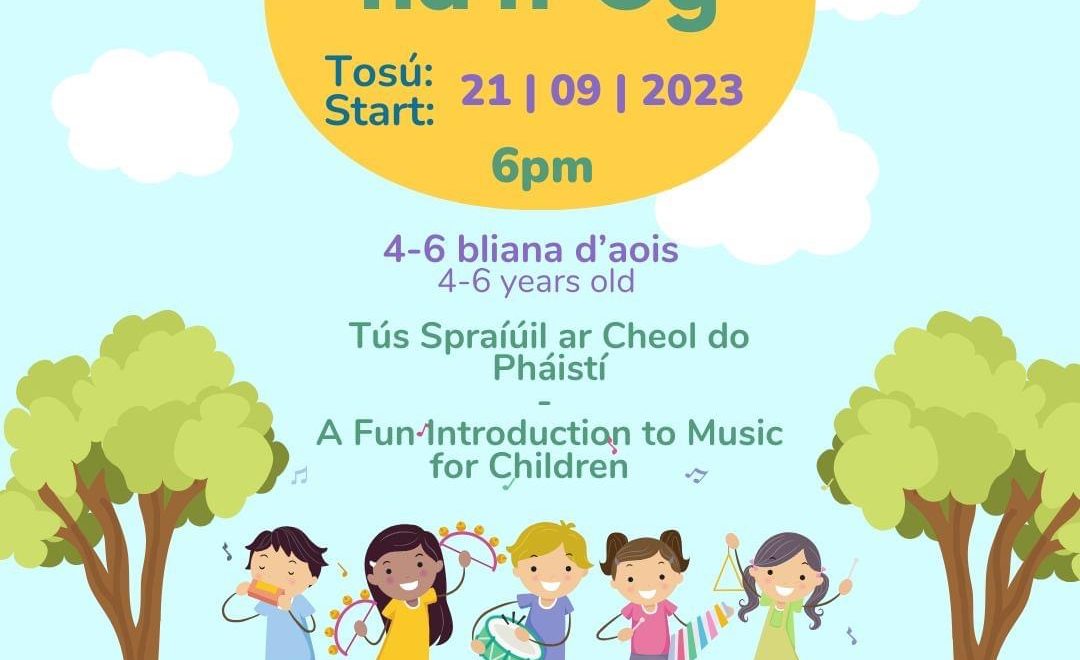 CEOL na nÓG – A Fun Introduction to Music fo Children at Aras Chronain
A music and singing class for children between 4-6 years old will take place every Thursday in Áras Chrónáin. In this class, the foundations of music will be taught in a fun and enjoyable way.
The following topics will be covered in class:
Rhyme, singing, rhythm, pitch, musical games and the children will have the chance to try out the tin whistle.
There is a free tin whistle for every child who is registered.
The first term lasts 6 weeks.
Club Ceol na n-Óg: Beidh rang ceol agus amhránaíocht do pháistí idir 4-6 bliana d'aois ar siúl gach Déardaoin in Áras Chrónáin. Sa rang seo, beidh na bunchlocha ceol á mhúineadh ar bhealach spraoiúil. Beidh na hábhair seo a leanas á chlúdú sa rang:
Rann, amhránaíocht,rithim, tiúnairde, cluichí ceol agus beidh seans ag na páistí trial a baint as an bhfeadóg stain. Tá feadóg stain saor in aisce do gach páiste atá cláraithe. Maireann an chéad tearma 6 seachtaine.
Tosú/Start : 21 Mean Fómhair 2023 (21/09/2023)
Am/Time: 6:00p.m.
Leibhéal/Level: Tosaitheoirí,
Aois Ghrúpa/Age Group: 4bl go 6 bl
Téarmaí:
Téarma 1 (6 Seachtain/Weeks) Tosú 21/09/202
Praghas:
Téarma €75 (Lascaine do bhaill. Lascaine do bheirt  páiste ón gclann céanna/ Discount for members. Discount for 2 children from the same family)
Clárú / Register: CLICK HERE